Art History of Jewelry
Artist's Jewels, Through the Eye of the Diane Venet Museum-like Collection
Third course of the Cycle on Artist's Jewelry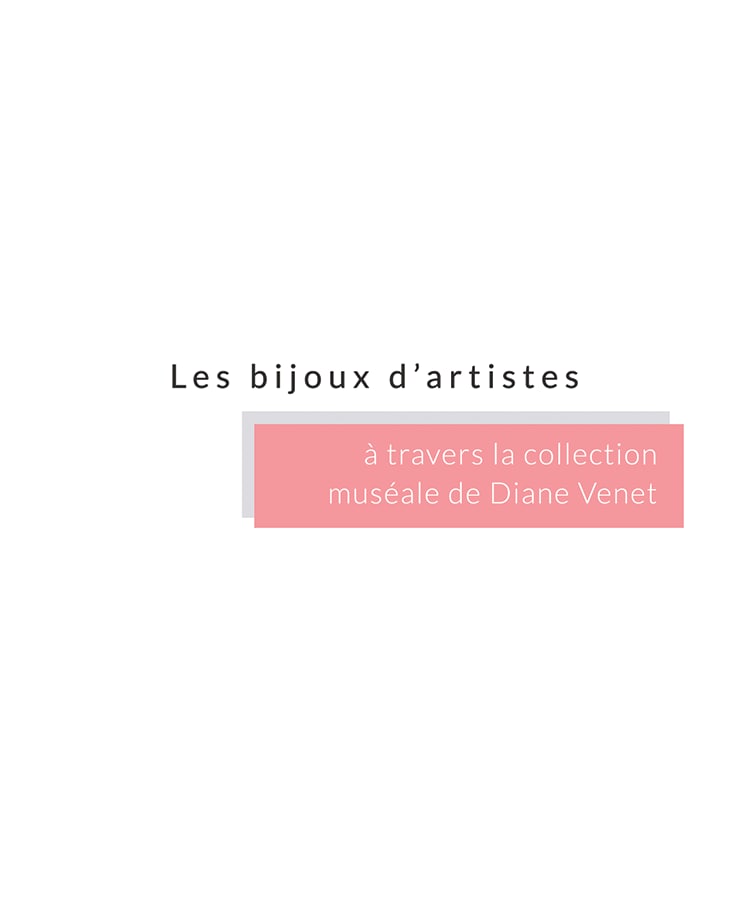 Event information
Participants

25 people

Duration

1.5 hours

Instructors

2

Language

Price

From
€ 50/pers.
Artist's jewelry is a work of art in its own right. Conceived by an artist, who realizes it or not, it is an original vector for understanding Fine Arts on another scale.
Like a miniature work of art, an artist's jewel has a special relationship to the body and to the intimacy, because it is the only artwork that a collector can wear. Very often created by artists for their muse, their partner or their children, it is an object of love endowed with a particular emotional charge. Picasso collected pebbles on the beach for Dora Maar and painted them. The intensity of artistic creation is thus tied in these works with the gesture of passion.
This course is the third one of the cycle on Artist's Jewelry, that will take place every Tuesday evening in November, from 7:00 to 8:30 pm:
November 2nd: Artist's Jewels, from Art Nouveau to the 1950s
November 9th: Artist's Jewels, from Modernism to the 1980s
November 16th: Artist's Jewels, Through the Eye of the Diane Venet Museum-like Collection
November 23rd: Artist's Jewels, from the 1990s to the Great Masters of Contemporary Art
November 30: Artist's Jewels, Through the Eye of some Great Collections – Ideal (Clo Fleiss), Baroque (Yves Gastou) and Body-related (Solange Thierry de Saint-Rapt)  
Your two teachers for this course cycle will be Delphine Antoine, art historian, author, jewelry collector, curator, antiquarian, and founder of Vissi d'Arte and Béatrice Vingtrinier, art historian and teacher at L'ÉCOLE, School of Jewelry Arts.
NB: It is required to register for the whole cycle. It is not possible to register for a single session alone.
To register for the whole cycle, click here.
Date: November 16th 
Hours: 7pm – 8:30pm
Price: 250€ for the whole Course Cycle
Number of participants: 25 people maximum
Language: French