New Exhibition
The Art of Gold, 3000 Years of Chinese Treasures
Ancient goldsmithing techniques revealed
26 March - 29 August 2021
Monday to Sunday, 1pm - 7pm*
Free admission, with free guided tours on the hour (last tour at 6pm)
Audio guide is available for walk-ins on your mobile phone – please bring your own earphones!
Click the button below to reserve your guided tour: REGISTER NOW
Address:
L'ÉCOLE Asia Pacific, School of Jewelry Arts
510A, 5F, K11 MUSEA, Victoria Dockside
18 Salisbury Road, Tsim Sha Tsui, Kowloon, Hong Kong
Inquiries:
+852 2653 0030 (Mon-Fri, 10am-7pm; Sat-Sun, 12nn-7pm)
hk.lecole@vancleefarpels.com 
Travel through time to witness the imperishable radiance and lasting power of gold, as it has played a symbolic and decorative role since the 5th millennium BCE.

Featuring a selection of masterpieces from the Mengdiexuan Collection, the exhibition illustrates over three thousand years of goldsmithing in China, through four major techniques namely hammering and chasing, casting, granulation, wire and filigree. From necklaces, bracelets and earrings, to hairpins, brooches and belt plaques, they take visitors on a journey across central China, the Steppes, the Mongolia and the Himalaya, spanning three millennia from Shang dynasty to Qing dynasty, presenting the goldsmithing techniques that still intrigue connoisseurs' eyes in the modern days.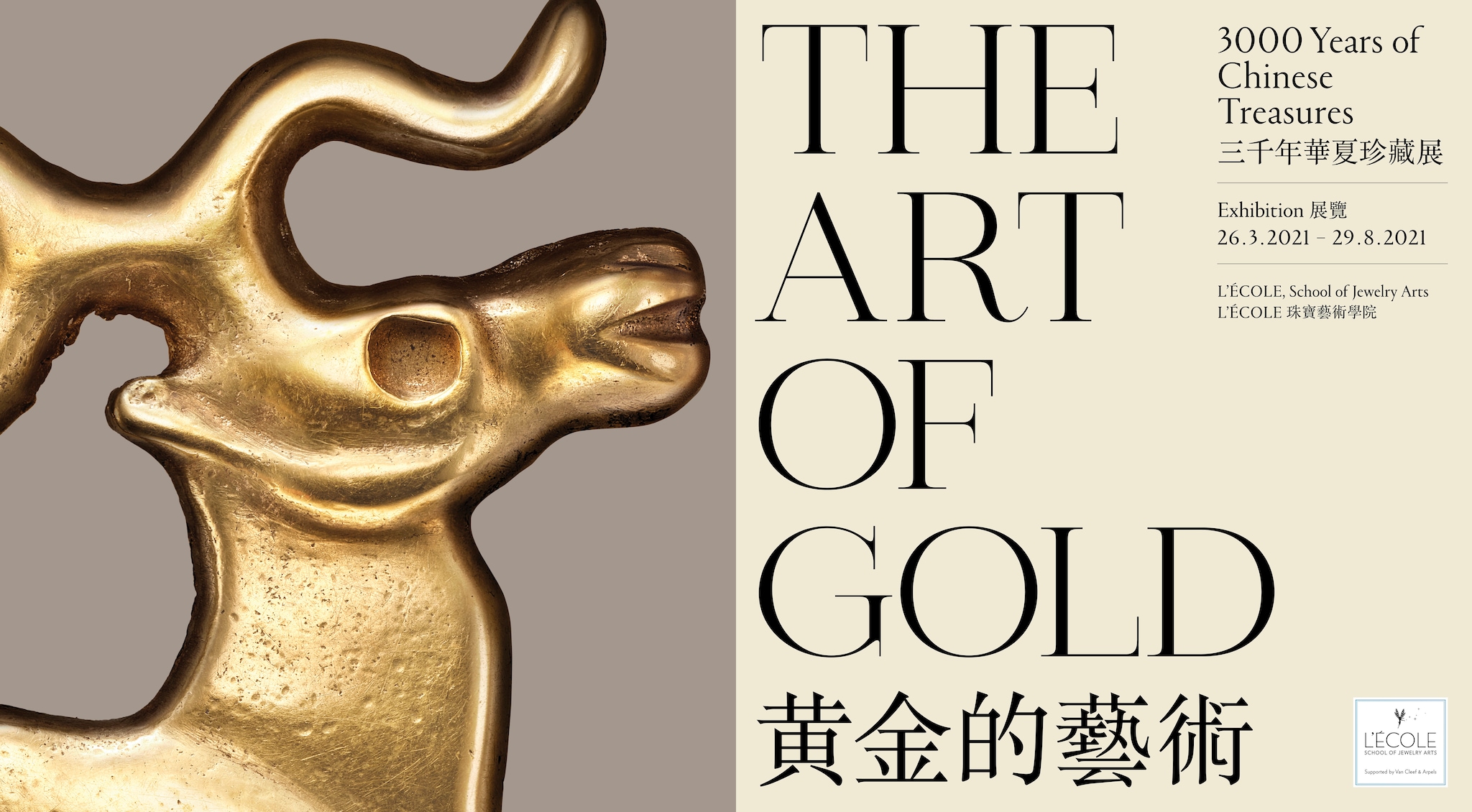 * For the health and safety of our visitors, the hygiene of public areas and facilities is strengthened, with alcohol hand sanitizers at your disposal. Visitors are subject to temperature check before admission and have to wear their own masks in the school premises. Visitors are also required to register personal information on-site by filling in our form or using the "LeaveHomeSafe" mobile app.
* The opening arrangements and precautionary measures of the Exhibition may vary according to the latest government guidelines. In case of exhibition tour cancellation pertinent to official restrictions, L'ÉCOLE Team will contact you with the personal details that you provided during registration. Thank you for your kind understanding.
The exhibition in pictures
Discover a selection of jewelry pieces and ornaments displayed in the exhibition thanks to our photo gallery :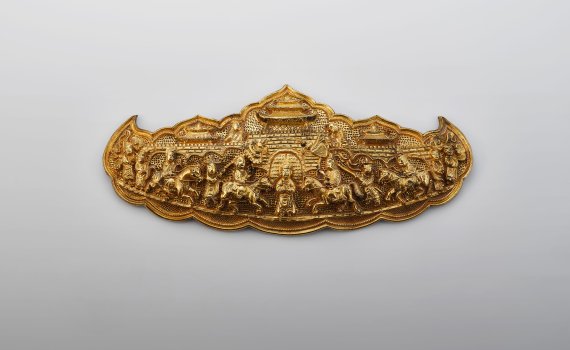 Hairpin with figures design (c) L'ÉCOLE – photo: Picspark Co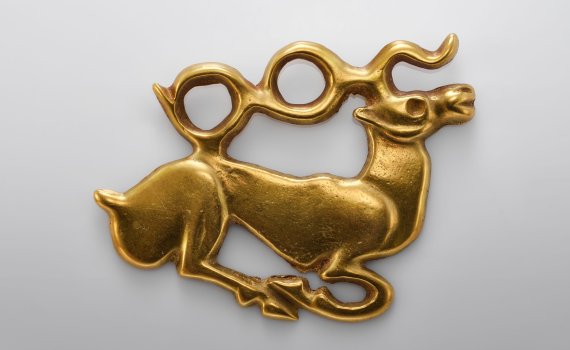 The Art of Gold_Recumbent stag ornament (c) L'ÉCOLE – photo: Picspark Co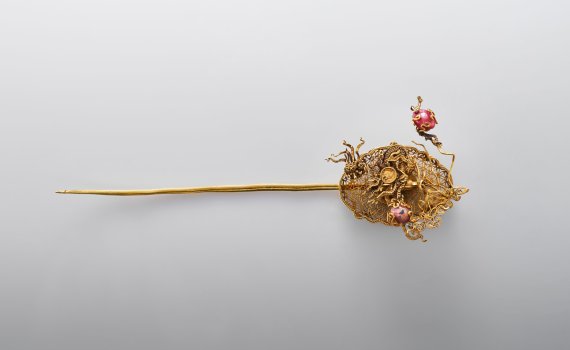 Gold hairpin with auspicious animal design (c) L'ÉCOLE – photo: Picspark Co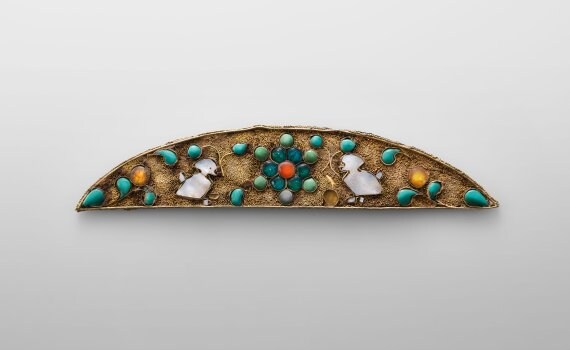 Gold comb top with gem, glass and shell inlay (c) L'ÉCOLE – photo: Picspark Co
Gold, between Science, History, and Craftsmanship
Discover our series of videos dedicated to Gold and the savoir-faire developed by the virtuoso artists that have used this precious metal for millennia.
A saga produced with Beaux-Arts Magazine.

Episode 1: The Art of Gold
Through an interview with Ms. Betty Lo, jewelry collector, discover the treasures of the Mengdiexuan Collection, revealed to the public in the exhibition "The Art of Gold. 3000 Years of Chinese Treasures" organized by L'ÉCOLE Asia Pacific in Hong Kong.
Episode 2: Gold, Millennia of Fascination
One of the most precious metals, gold is a miracle of nature, giving rise to supernatural symbolism. In this episode, discover why, since time immemorial, gold has always enthralled human beings.
Episode 3: Hammering and Chasing: 5000 Years of Craftsmanship
One of the most extraordinary materials thanks to its natural properties, gold lends itself to anything imaginable. Since Antiquity, the artisans and goldsmiths have always sought to transform it with a technique still widely used today: hammering.
Episode 4: Casting: Fusing the Imagination
King of precious metals, gold is the unrivalled star of jewelers all over the world. Artisans and goldsmiths give this precious material complex forms thanks to a meticulous technique: casting.
Episode 5: Granulation, A Precious Technique
With this new episode of our saga on gold, discover another technique, resulting from a very precise and delicate technique. When gold is heated to 1064°, it automatically forms little balls. This unique material will then be the starting point of an exceptional technique, used since the 3rd millennia BCE: granulation.
Episode 6: Wire and Filigree: From Tradition to Modernity
An exceptional material for creation, from just several grams of gold, one can obtain threads several meters long and only 0.2 millimeter thick. This is the starting point of an ancestral technique used in jewelry: filigree.
===============
The Art of Gold explained to Kids!
It is precious, yellow, shiny… Let's discover what is gold. This chemical element has been valued since ancient times. It is found in a pure form in nature, so early civilizations were able to discover it and use it to make amazing jewelry, ornaments, and objects. This very rare metal has superpowers, which make it useful in many different ways. Let's learn how it can be transformed it into all sorts of shapes thanks to talented craftsmen.