Master's Scholarships 2022 - Interview Laureate Marie Klopp
Marie Klopp
"Engraving and Manufacturing Jewelry: Forms and Representations at the time of Louis XIV (1643-1715)" - Université d'Aix-Marseille - Under the supervision of Céline Ventura Teixeira, Associate Professor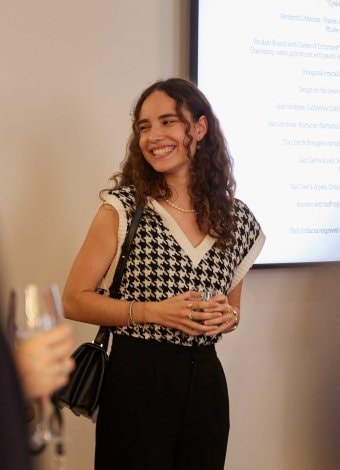 What did you study prior to embarking on this Research Master's?
Marie Klopp
As a student in a high school, I took the economics and social strand for my final years and graduated with honors. Passionate about history and with a certain sensibility for art since childhood, I decided to enroll at the Université ALLSH Aix-en-Provence for a B.A. in History, Archeology and Art History. I thoroughly enjoyed all of the degree course, but art history was my favorite discipline! I gradually specialized over the course of my three years, which allowed me to confirm my special interest in art from the modern period. After receiving my B.A. with honors, I chose to pursue my studies with a Research Master's.
Why did you chose this topic?
Marie Klopp
It was thanks to the valuable advice of Céline Ventura-Teixeira, one of my professors, who has since become my thesis director that I chose to focus on the history of jewelry art for the duration of my two-year Master's program. Céline guided me towards this area of art history that is still little-known today, and which nonetheless deserves attention. As I wanted to study a topic related to power at the time of the French monarchy, jewelry seemed like the perfect choice.
What is the interest and originality of such a topic?
Marie Klopp
My topic is a multidisciplinary one in that it encompasses many different fields, each more interesting than the last, including gold and silversmithery, engraving, ornamentation, fashion, gemology, travel literature, and even anthropology. Jewelry is a wonderful testimony to the greatest but also the smallest episodes of history. It tells us about the lives of those who created, wore, and cherished them. Even if the reign of the Sun King is known to many, exploring it through the prism of jewelry showcases the technical innovations of the time, the transition from jewelry to luxury jewelry, as well as once well-known jewelry figures who have since been forgotten. My research topic has led me to study the etchings of the specialist jewelry books belonging to the Jacques Doucet Collection at the INHA (National Institute for Art History) and to understand the evolution of jewelry, how it was fashioned, and the flourishing taste for such items. An accessory made to be seen, and to allow its wearer to be seen, a symbol of royal splendor, or even a sentimental piece, jewelry tells us more about the complex personalities of Louis XIV, his court, and the artists of the day.
Can you tell us about your interest in jewels and jewelry?
Marie Klopp
I have always loved and worn jewelry for its esthetic value but also for the symbolism and emotional charge associated with it. I never part with my favorite rings—pieces that belonged to family members or gifts from my best friends; they are with me wherever I go. I also have a particular interest in mythical jewels and I like learning about their history, such as the famous Affair of the Diamond Necklace, for example, or the stunning jewelry of the Empress Joséphine, and of course, the always intriguing Fabergé Eggs!
You are now the recipient of a Master's Scholarship. How do you intend to put this to use?
Marie Klopp
This scholarship will allow me to finance a research stay in Paris in order to access multiple archival sources that will allow me to advance my research. It will also be used to access the various Study and Documentation Centers at the Louvre and the Musée des Arts Décoratifs. I would also like to take the opportunity to visit the famous jewelry gallery at the latter and to consult the library at L'ÉCOLE, School of Jewelry Arts.
Were you familiar with L'ÉCOLE, School of Jewelry Arts before applying for this scholarship?
Marie Klopp
Yes of course! L'ÉCOLE was one of my first sources of research when I decided to embark on my thesis. I have watched almost all of the videos available on their website and I register as soon as I receive an email announcing an upcoming online conference organized by L'ÉCOLE. In fact, as part of the first year of my Master's course, I wrote reports on two of these, entitled "The secret language of flowers" and "The secrets of jewelry design". To be associated with this institution, even just a little bit, is a true honor.