Master's Scholarships 2022 - Interview Laureate Isabelle Ducel
Isabelle Ducel
"The Influence of African Art and Cubism on Art Deco Jewelry" - Université Toulouse Jean Jaurès
Under the supervision of Nicolas Meynen, Associate Professor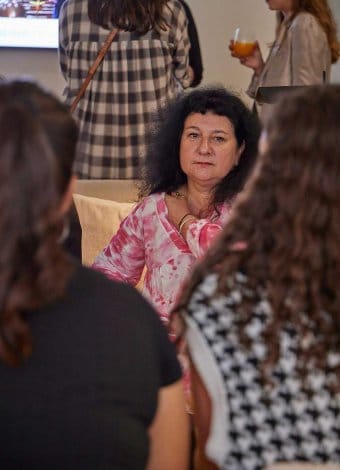 What did you study prior to embarking on this Research Master's?
Isabelle Ducet
I have a university background: I studied Arts and I am a qualified teacher. I teach literature from grades ten through twelve, as well as my specialty: the humanities (literature and philosophy). Art history is a field that is closely linked to literature, and in my teaching, I constantly strive to highlight such links in an effort to understand the spirit of an era.
Why did you chose this topic?
isabelle Ducet
This topic emerged from the convergence between several areas of interest, including jewels and jewelry, first and foremost. I make jewelry: this is my secondary activity and a passion of mine. I am self-taught but I have also trained with professional artisan jewelry-makers. Nevertheless, I still have a lot to learn. Another of my passions is the Art Deco period. When I discovered that one of the sources of inspiration for this had been African art, sometimes linked to Cubism, this brought in my last areas of interest. During my Arts degree, I specialized in "Negro-African" literature, and I have a keen interest in 20th-century painting, namely Picasso. This subject therefore allows me to connect all of my passions.
What is the interest and originality of such a topic?
Isabelle Ducet
I have more or less answered the first part of this question in my previous response. The originality on the other hand, consists of two main points. First of all, I intend to show the importance of the influence of African Art and Cubism on Art Deco jewelry-makers and the way in which they regarded these as a reflection of modernity. I also want to explore the recognition and understanding of an art that was not a mere fad or craze. My other ambition is to link certain pieces of jewelry and their direct influence, which is a trickier aspect.
You are now the recipient of a Master's Scholarship. How do you intend to put this to use?
Isabelle Ducet
This scholarship will be very useful to me. On the one hand, it will enable me to purchase certain art books, on jewelry in particular, but also because I intend to take four months of unpaid leave to complete my Master's degree in the best possible conditions.
Were you familiar with L'ÉCOLE, School of Jewelry Arts before applying for this scholarship?
isabelle Ducet
Firstly, my research director Nicolas Meynen suggested I collaborate with L'ÉCOLE, School of Jewelry Arts, through a thesis co-directed by Léonard Pouy, professor-researcher. I have been able to access L'ÉCOLE's library collection thanks to the invaluable help of Claire Boudarel, L'ÉCOLE librarian. I would like to emphasize the quality of the welcome I received at L'ÉCOLE, School of Jewelry Arts when I first went there to do research.