The result of a collaboration between the École Pratique des Hautes Études and L'ÉCOLE, School of Jewelry Arts, the study days held on October 18th and 19th, 2022 had as their theme: "Jewelry in the contemporary age: the material paths of creation".
The objective of these two days, gathering young researchers in art history, was to study the creation of jewelry in the nineteenth and twentieth centuries in its material aspects.
The Study Days were organized by Jean-François Belhoste (École pratique des Hautes Études), Rossella Froissart (École pratique des Hautes Études) and Guillaume Glorieux (L'ÉCOLE, School of Jewelry Arts).
The study days took place on October 18th and 19th 2022 at the Park Hyatt - Paris Vendôme on October 18th and at the INHA, Auditorium on October 19th Auditorium. 
The participating young researchers focused on three important stages: the invention or creation of a jewelry piece, its production, and distribution. Shining a light on the environment surrounding the object, they deepened our understanding of the creative process, from the idea to the object to its distribution.
They showcased different workshop practices and the presentation of jewelry to the public at the extremely important transition phase from craftsman to artist. These study days made it possible to retrace the advent of modern jewelry and the practices that surround it: the participation of creators in universal exhibitions, artistic fairs, and collaborations with artists at the turn of the 19th century.
They also emphasized the vitality of research in this particular field, which is at last taking the place it deserves within art history.
The proceedings from the two study days will be published online, via the website of L'ÉCOLE, School of Jewelry Arts, allowing this expertise to be accessible to all.
L'ÉCOLE, School of Jewelry Arts is co-organizing with the Collège de France on January 26 and 27, 2023 a study day devoted to jewelry and precious ornaments during the Renaissance.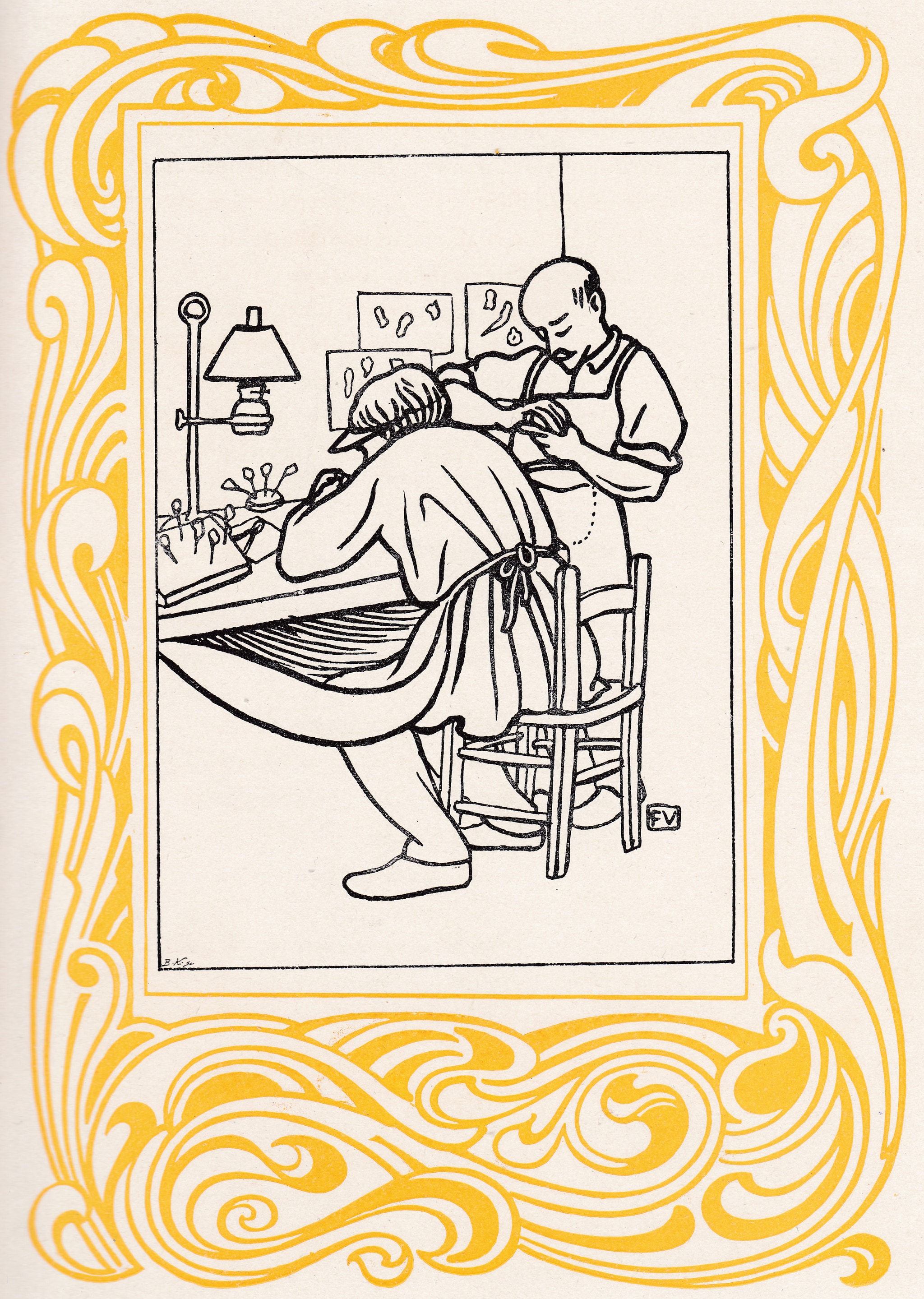 Image above: Félix Vallotton, "Le bijoutier", Documents on industrial art in the 20th century, published by La Maison moderne in Paris, 1901.
All photos © L'École Van Cleef & Arpels. Photographer: Pauline de Courrèges.