If you are in Lyon for the nomadic edition of L'ÉCOLE (26/11 - 4/12/2022), do not miss out our exceptional loans to the exhibition "Bijou bijoux" at Le Musée de l'imprimerie et de la communication graphique.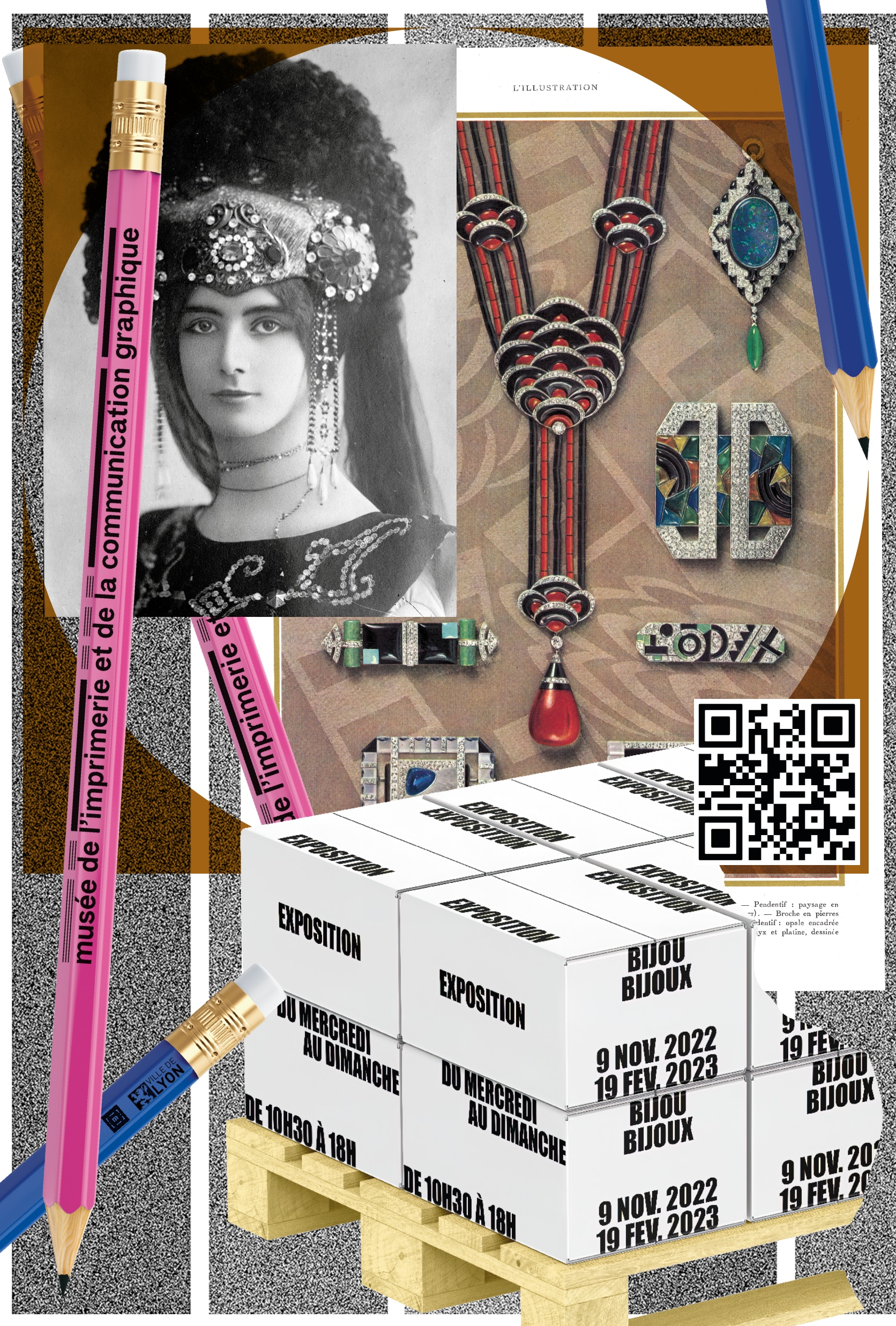 A SENTIMENTAL AND SURPRISING EXHIBITION
Jewels attract light. Gems, rings, necklaces, capture all the attention while faces, bodies, buried memories are just hidden behind, waiting to come out of oblivion and get moving. Discover a panorama of these stories, images and often unknown destinies which fill the life of jewels and give them the only lasting value, that of feelings.
What is our connection to jewellery? Which part of ourselves takes shape in contact with them and what images are released in our thoughts? Do not look for real jewels in this exhibition which focuses precisely on what gravitates around. Materials, gems, jewellery techniques, workshops, creators, jewellery houses, models, designs, films, books, the choice is vast and takes us all around the world.
Did you know that the subsoil of France conceals gems like sapphire and amethyst in the Massif Central? That the Crown Jewels of France were sold at auction in 1887? Did you know that Lyon Klondike Syndicate was the only French company to have a continuous activity at the time of the gold rush? Could you imagine that the case of the theft of Kim Kardashian's jewellery became a comic book album? Have you heard of the job of jeweler and hair designer, common in the 19th century, which allowed one to keep for oneself proof of love or the memory of a deceased person?

Through the Bijou Bijoux route, you will discover the history of this precious object with, for example, the famous Art Nouveau Fouquet jewellery store designed by Alfons Mucha, considered to be the first concept store. Contemporary creations will be present with among others the incredible journey of A$ap Eva, jeweler for rappers and the skeletons with jewellery by photographer Paul Koudounaris. Finally, we will dive into the fabulous stories of the jewels of Baudelaire, George Sand, Jules Verne, Joseph Kessel, Jean Cocteau or Marlene Dietrich. 
EXCEPTIONAL LOANS

This unprecedented approach to the world of jewellery, mainly through books and printed documents, would not have been possible without the collaboration of the Lyonnais gemologist Geoffray Riondet who has gathered in a major personal library valuable documents. Exceptional loans will also come from the Municipal Library of Lyon, jewellers and bibliophiles' private collections and The School of Jewellery Arts, accompanied by some of the museum's funds.