Interview with Francesco Solinas
Specialized in the history of documentary drawing and scientific illustration between the 16th and 17th centuries, expert in the development of genre painting (portrait, still life, flower painting, etc.), and in the development of the art of painting.
Let's get to know him better!
"Jewelry is fundamental; it is distinctively human and the first art form."
Francesco Solinas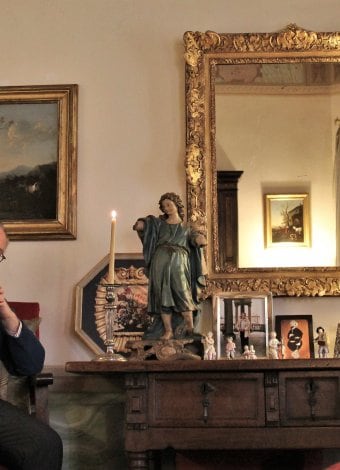 Could you tell us a little bit about yourself?
Francesco Solinas
I'm an Associate Professor at the Collège de France, which is attached to the Faculty of Modern and Contemporary French Literature. I'm also a member of the Respublica-Literaria (République des Savoirs) research team at the French National Center for Scientific Research (CNRS). I'm an art historian specializing in the history of painting, art criticism, documentary drawing, and scientific illustration from the 16th and 17th centuries. Over the course of my career, I have published extensively on diverse subjects such as the evolution of genre painting (portrait, still life, landscape), the relationship between artistic creation and scholarship, politics and diplomacy, the birth of artistic genres and the history of collections, and documentary and scientific drawing. I oversee the collection Les lettres italiennes de Nicolas-Claude Fabri de Peiresc (1580-1637). My last publication was a critical piece regarding the correspondence of Italian artist Artemisia Gentileschi.
Can you tell us more about your career?
Francesco Solinas
I was born in Rome to parents who worked in the fashion and film industries. I studied art history at the University of Pisa, and my doctoral thesis was on Cassiano del Pozzo, a learned collector who played a major role in 17th-century Europe. For more than ten years, I worked at the Vatican Library and the Royal Library at Windsor Castle, and in 1992, I had the opportunity to join the research team brought together by Marc Fumaroli at the Collège de France.
Why a research seminar on Ornaments?
Francesco Solinas
In common language, the notion of ornament evokes a superficial dimension independent of function, which, however, is essential. From an anthropological point of view, it can even be considered primordial. My interest in ornaments first took on a philosophical dimension. The idea for creating the series of seminars on ornaments came from an encounter I had with Pierre Caye, who was particularly interested in ornaments. For five years I worked with Pierre Caye, who is a philosopher, architectural historian and research director at the CNRS. Together, we proposed an international research seminar on ornaments in general, principally within history of art. The proceedings have been published in Les Cahiers de l'Ornement (Journals on the Ornament).
How did the idea for the one-day workshops on precious ornaments, which will debut in January 2023, come about?
Francesco Solinas
The idea of continuing with the seminar series on Ornaments was born upon meeting Marie-Laure Cassius-Duranton, who is now a research professor at L'ÉCOLE, School of Jewelry Arts. We both share the same passion: jewelry! I suggested that we get together to extend the series by concentrating more specifically on precious ornaments and jewelry. We established a partnership with the Collège de France, École Normale Supérieure, the CNRS, and L'ÉCOLE, School of Jewelry Arts to create a large-scale international project we call Precious Ornaments. Function and History of Renaissance Jewelry in the 19th century. We are planning a series of sessions over several years that will focus on the Western world and follow a chronological order. Researchers from museums, research centers and universities around the world will take part in this series. The proceedings will be published in Les Cahiers de l'Ornement.
The first session will be held at the Collège de France next January 26 and 27 and will focus on the functions of precious ornaments in the European courts at the end of the Middle Ages and during the Renaissance.
What specific subjects will be covered during the subsequent days?
Francesco Solinas
The scope of the previous series was broader and included many art forms such as architecture, sculpture, painting and miniatures. It also included ephemeral art forms linked to theatrical and festive traditions that no longer truly exist today, yet which are invaluable records of the pomp and splendor of the court, particularly during the Renaissance and Baroque periods. Our new project is a lot narrower in scope. We will study specific aspects of precious ornaments through jewelry, of course, but also through the work of gold- and silversmiths, particularly Christian reliquaries and liturgical objects. We will also examine the art of enameling, glyptics, cameos, intaglios, and the lapidary arts. We plan to cover all the art forms that involve working with precious metal and gems. We will concentrate on Europe, especially France and Italy, and discuss changing fashions and the transformation of jewelry. 

Contrary to other art forms, the fate of jewelry and precious objects is their destruction in order to recover the metal and gems, which are generally recut for economic reasons and to better conform to the evolution of taste. Sometimes they remain intact, but this is rare. Often, even in the best of cases, they are transformed. Nevertheless, providing a historical account of these objects is still possible thanks to other documentary sources such as paintings, inventory records, or descriptions from the workshops.  There will also be a socio-political approach to these studies. Precious jewelry and ornaments have great representational value, and this was especially true in the Courts and Church during the 15th, 16th and 17th centuries. We're interested not only in the savoir-faire, but also the role that jewelry and precious ornaments played in society.
Can you tell us about the Collège de France?
Francesco Solinas
The Collège de France is an extraordinary institution, established in 1530 by King Francis I as a way to give his subjects the opportunity to learn and gain knowledge. "Docet Omnia" is the motto of the Collège de France. It represented the rise of the spirit of enlightenment that characterized France for centuries, and provided an opening to secular knowledge, as opposed to the Sorbonne, which was the university attended by clergymen. The Collège de France is open to all and made for everyone. Whether it is young people, students, workers, professionals, doctoral students, or non-professional enthusiasts, everyone is welcome. We offer highly scientific courses and seminars covering all disciplines.
For our seminar on precious ornaments, the Collège de France is an extraordinary and extremely prestigious place which, although linked to tradition, is also very open, European, and International.