Master's Scholarships 2022 - Interview Laureate Alice Barbaroux
Alice Barbaroux
"Light in the Conceptual Jewelry of Margaret de Patta (1903-1964)"
Université Paris 1 Panthéon – Sorbonne 
Under the supervision of Eléonore Challine, Associate Professor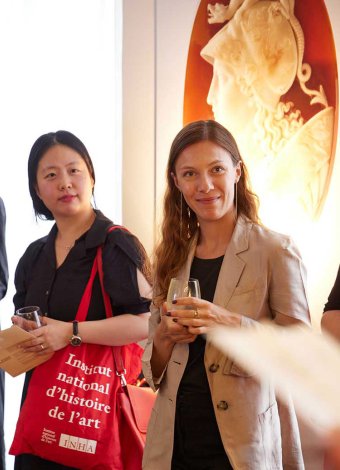 What did you study prior to embarking on this Research Master's?
Alice Barbaroux
Before embarking on this Research Master's, I did a joint degree in philosophy and art history at the Université Paris 1 Panthéon-Sorbonne. After the first year of my undergraduate degree, I took a gap year. During this time, I did courses in the history of contemporary Latin American art at the University of Buenos Aires, because I wanted to specialize in this field. I also did a three-month internship in research and conservation at the National Museum of Modern Art in Mexico City, and then took summer classes in gender studies at New York University. This year, I am continuing my academic career with a two-year Research Master's in art history, again at the Université Panthéon-Sorbonne.
   
Why did you chose this topic?
Alice Barbaroux
In June 2021, I decided to take a course in jewelry in order to discover this art, which very quickly became a passion. Therefore, I wanted to combine my research with this new passion for jewelry. To find my topic, I focused on the history of 20th-century jewelry insofar as the art and fashion of this period are of particular interest to me. I discovered the work of North American jeweler Margaret De Patta (1903-1964). I was fascinated by the truly experimental aspect of her creations. This choice was subsequently confirmed thanks to the "Jewelry and Abstraction amongst 20th-century Artists and Designers" study day, organized by L'ÉCOLE, School of Jewelry Arts at the Centre Pompidou in June 2021. During her intervention, curator Christine Macel evoked the little-studied relationship between photography and the jewelry practice of Margaret De Patta. It soon became clear to me that I should center the research in the first year of my Master's degree on the relationship between jewelry and the visual arts. This research led me in my second year to analyze the teachings, writings, and direct influence of Margaret De Patta on a new generation of artists and artisans in California.
What is the interest and originality of such a topic?
Alice Barbaroux
No academic research work on Margaret De Patta has been carried out in France and there is no complete analysis of her writings and teachings, even in English. For me, it was interesting to study the theoretical and pedagogical handwritten archives to shed light on De Patta's jewelry creations. In my opinion, it is rare to be able to have so many written sources from a jewelry designer. This research work will also explore the role of Margaret De Patta within the Metal Art Guild of San Francisco, an association of jewelers that developed a training center for artists and artisans in the San Francisco Bay Area. Moreover, Margaret De Patta is considered a pioneer of American Studio Jewelry, so conducting research on the expertise and ideas of jewelry creation disseminated by the designer will make it possible to study a movement that extends from the 1940s to the 1960s in the United States, from an original perspective.
Can you tell us about your interest in jewels and jewelry?
Alice Barbaroux
I have loved jewelry since childhood and it has a rather ornamental role in my everyday life. An increased understanding of metalwork and the sculptural aspect of jewelry enabled me to see the object differently and to be truly amazed by jewelry creation. This admiration for the craftsmanship behind jewelry design led me to do a vocational course in jewelry, specializing in the history of jewelry. I have also carried out research on its anthropological, social, and symbolic aspects. It is very satisfying and enriching to be able to link my university research and my apprenticeship in jewelry-making: one field mutually nourishes the other.
You are now the recipient of a Master's Scholarship. How do you intend to put this to use?
Alice Barbaroux
An archival collection called Margaret De Patta Papers is kept at the Archives of American Art in Washington. It includes class notes and the writings of this creator. Consulting these archives will be especially useful in terms of my dissertation project. The scholarship awarded by L'ÉCOLE will help me finance a research stay within this institution.
Were you familiar with L'ÉCOLE, School of Jewelry Arts before applying for this scholarship?
Alice Barbaroux
Yes, I did know about L'ÉCOLE, School of Jewelry Arts before applying for this scholarship. I visited several exhibitions organized by L'ÉCOLE, including the exhibition on jewelry artist Jean Vendome, and more recently the one on engraved stones. The conferences available online on L'ÉCOLE's website have also been a valuable source of knowledge and information about the history of jewelry and jewelry-making techniques.