Master's Scholarships 2022 - Interview Laureate Chiara Lupano
Chiara Lupano
"The Forms and Variations of Bouquet Holders in the 19th Century" - Université Paris 1 Panthéon – Sorbonne 
Under the supervision of Delphine Morana Burlot, Associate Professor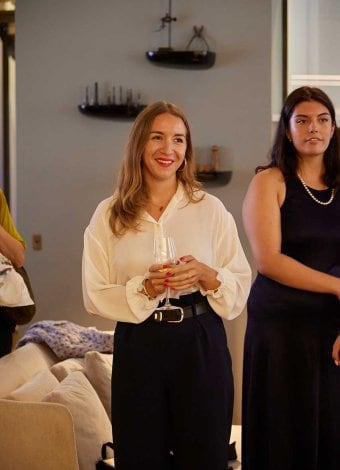 What did you study prior to embarking on this Research Master's?
Chiara Lupano
During the first two years of my art history degree at the Université Panthéon-Sorbonne, I discovered the world of auctions. I therefore decided to change direction slightly and took a joint degree in law and art history in order to be able to evolve, in the future, in the art market field as an auctioneer. At the same time, I trained in gemology at the National Institute of Gemology. Now however, I wish to devote my studies to research, specializing in the decorative arts, and more specifically 19th and early 20th century jewelry.
 Why did you chose this topic?
Chiara Lupano
I discovered bouquet holders during the Paris Romantique, 1815-1848 exhibition at the Petit Palais in 2019. Surprised by the lack of information about them on the cartels and wishing to write a thesis on jewelry but also on the decorative arts, fashion, and the art market, these ingenious and esthetic objects seemed conducive to academic research. In addition, bouquet holders were very successful in social circles throughout the 19th and early 20th centuries in Europe, and Paris in particular. A wealth of documentation remains to be studied (invention patents, drawings, sales catalogs, inventories, etc.).
What is the interest and originality of such a topic?
Chiara Lupano
These objects are still largely unknown to the general public, but offer different study perspectives and interesting angles of analysis, relating to the style of the bouquet holders, the diversity of the forms and materials used, and their function in a worldly and privileged society.
My work will consist in retracing the historical trajectory of bouquet holders, understanding the context of their creation, and examining the technical and material evolution of the forms and types of this object, based on the consultation of archives pertaining to the world of jewelry and fashion, and the careful observation of these objects.
Can you tell us about your interest in jewels and jewelry?
Chiara Lupano
My approach to jewelry was, at first, essentially esthetic. During my internship at Osenat (auction house) in 2020, I especially enjoyed preparing for jewelry sales, which allowed me to observe gems and various creations, ancient and modern, bearing the hallmark of the designer or not.
Since then, my interest in jewelry has continued to grow, particularly through my professional training in gemology, which has provided me with a theoretical, practical, and scientific dimension to the study of gemstones. I have extended this interest through a regular collaboration with expert gemologist Mr Hector Yaiche at jewelry sales at Drouot. I was also fortunate enough to observe the riveting jewelry appraisal process with expert auctioneer and gemologist Sabine Sourdoire.
You are now the recipient of a Master's Scholarship. How do you intend to put this to use?
Chiara Lupano
In my academic research, objects are of primary importance; being able to go and study the bouquet holders featured in my thesis in their places of conservation, like the Victoria and Albert Museum, constitutes an essential stage of formal but also documentary analysis, which this grant will be able to finance.
 Were you familiar with L'ÉCOLE, School of Jewelry Arts before applying for this scholarship?
Chiara Lupano
I knew L'ÉCOLE, School of Jewelry Arts for its exhibitions, such as Designing Jewels, which I saw in December 2021. However, it was my thesis director who made me aware of this scholarship intended for academic research.