Master's Scholarships 2022 - Interview Laureate Emma Louvrier
Interview Emma Louvrier
"The Representation of Necklaces in French Portraits of Women in the 16th Century"
Université de Picardie Jules Verne
Under the supervision of Professor Philippe Sénéchal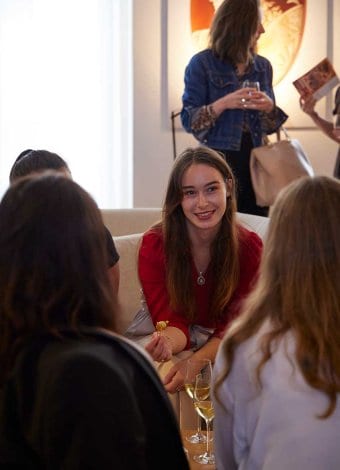 What did you study prior to embarking on this Research Master's?
Emma Louvrier
Before embarking on this Research Master's, I obtained a degree in art history and archeology from the Université de Picardie Jules Verne in Amiens.
Why did you chose this topic?
Emma Louvrier
My subject concerns the representation of necklaces in portraits of 16th-century French women. I chose this subject for a number of reasons. Firstly, in 2020, interested in craftsmanship and wishing to better understand the stakes involved, I did an internship with artisans working with pewter. As part of this internship, I was able to make an item of jewelry, from the design to the marketing phase. From a more theoretical perspective, for several years, I have focused my attention on the sociological dimension of fashion, in particular jewelry, as well as the link between art objects and their representation. I have enriched my practical knowledge of this topic through a more academic approach. Finally, during my studies in art history, I realized that I have a particular penchant for portraiture. Given my fondness for the Renaissance period, portraits from this historical epoch naturally became my preferred area of study. In conclusion, the choice of my thesis subject is, above all, the result of the combination of my academic and professional career, as well as my keen interest in jewelry and portrait art.
What is the interest and originality of such a topic?
Emma Louvrier
Back in 2021, with my thesis director, Philippe Sénéchal, we spent a great deal of time discussing the fact that the representation of necklaces in Renaissance portraits was very little referenced. This absence in academic research represents a hiatus in the understanding of Renaissance jewelry. Nowadays, portraits are a rare testimony of Renaissance necklaces as the vast majority of these artefacts have either disappeared or been clouded by forgeries.
Can you tell us about your interest in jewels and jewelry?
Emma Louvrier
My interest in jewelry mainly revolves around the socio-political analysis of jewelry in connection with the art of appearance, notably sumptuary laws, as well as the evolution of jewelry, along with that of clothing, with regards to ways of wearing it.
You are now the recipient of a Master's Scholarship. How do you intend to put this to use?
Emma Louvrier
As the second year of my Research Master's approaches, I plan to use this scholarship in three ways. Firstly, the funds allocated will be invested in the necessary but costly specialized books on my thesis subject. Secondly, I will use the funds to organize research trips, mainly in and around Paris, which will allow me to deepen my knowledge of the subject in question. Finally, and in parallel with the financial aspect, this scholarship validates my research subject. Thanks to it, I will be able to conduct interviews with professionals who can provide essential knowledge that will guarantee the exhaustiveness of my final project.
Were you familiar with L'ÉCOLE, School of Jewelry Arts before applying for this scholarship?
Emma Louvrier
Before applying for this scholarship, I already knew L'ÉCOLE, School of Jewelry Arts. In 2021, I was lucky enough to be able to visit the exhibition Designing Jewels.