L'ÉCOLE, School of Jewerly Arts
31 rue Danielle Casanova
75001 Paris
Exhibition from December 1st 2022 to April 14th 2023
Tuesday to Saturday, 12pm to 7pm
Evening hours on Thursdays until 8pm
Guided tours in French on Tuesdays, Wednesdays, Thursdays and Fridays from 6pm to 7pm  
The exhibition will be closed from Saturday December 24th 2022 to Monday January 2nd 2023 included.   
Free admission, by reservation 
Book Now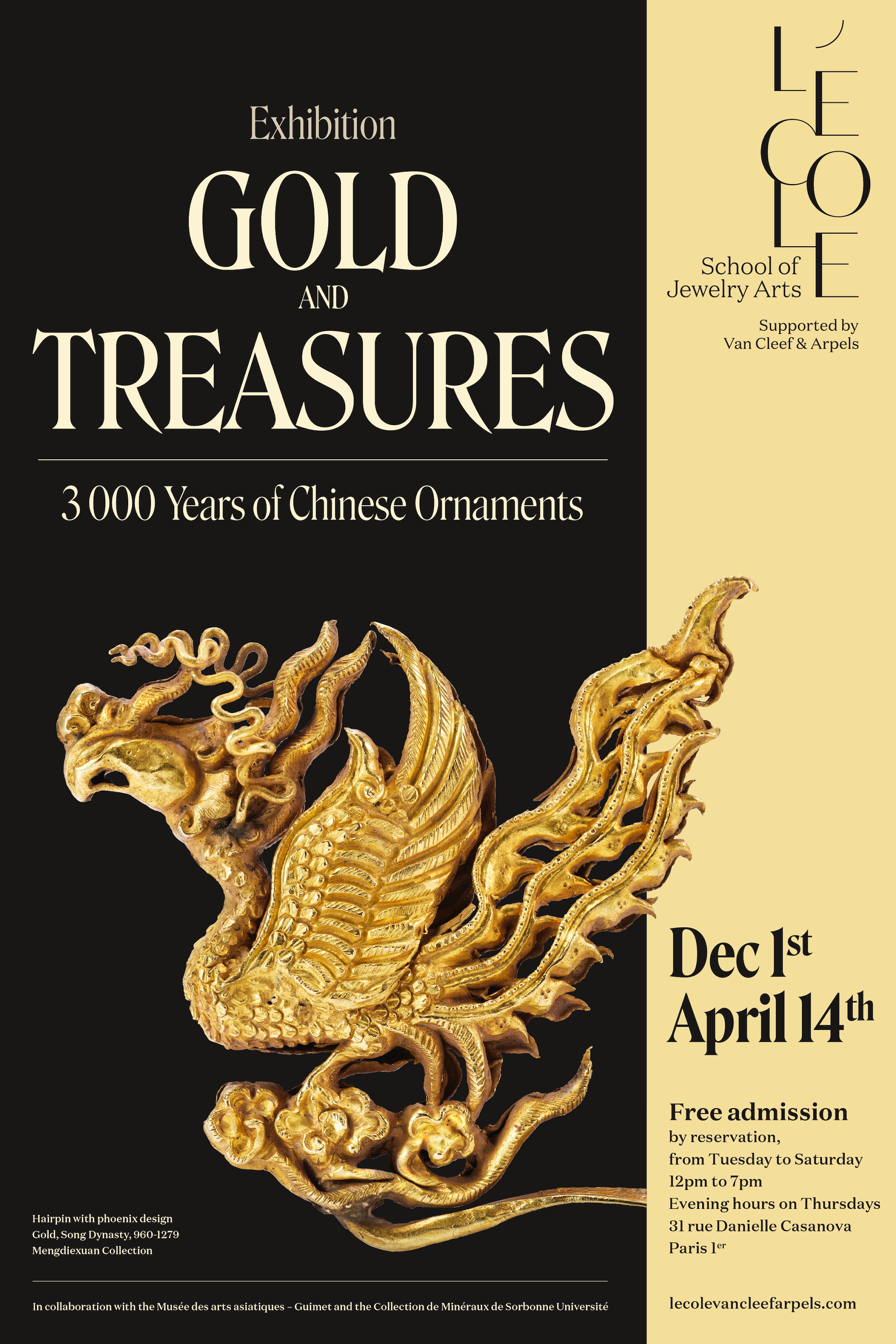 ​Photo: Hairpin with phoenix design. Gold, Song Dynasty, 960-1279. Mengdiexuan Collection. ​
Book Your Visit
Exhibition "Gold and Treasures , 3000 years of Chinese ornaments"
"Gold is the most valuable thing in all the world because it is immortal and never gets rotten. Alchemists eat it, and they enjoy longevity."
Wei Boyang, alchemist, East Han dynasty (25-220)From the first traces of its use in the fifth millennium B.C.E., gold has fascinated and mesmerized civilizations the world over.  

Gold was rarely seen in China before the Han dynasty and was mainly used to embellish other materials such as bronze or to realize small objects. For the Steppe peoples of northern China, however, it played an essential role in society. Frequent exchanges between central China and nomadic peoples led to a dramatic increase in the production and use of gold ornaments, which became veritable symbols of power and represented the high rank of those who wore them. They are also invaluable in bearing witness to the savoir-faire of Chinese goldsmiths over the centuries.

Replete with various symbolic meanings that are deciphered throughout the exhibition, these ornaments span more than three thousand years of Chinese history. All are part of the exceptional Mengdiexuan Collection, one of Hong Kong's most extraordinary private art collections, focused on Chinese art. L'ÉCOLE, School of Jewelry Arts is honored to present the collection in Paris, following a first exhibition on its Hong Kong campus two years ago.

By bringing art history, savoir-faire, and materials into dialogue, the exhibition resonates with the mission pursued by L'ÉCOLE, School of Jewelry Arts since its creation in 2012 with the support of Van Cleef & Arpels, that of promoting the many dimensions of the art of jewelry through courses, talks, workshops, exhibitions, publications, and research.