Savoir-faire
From Design to Mock-up
Explore the first steps in creating a jewel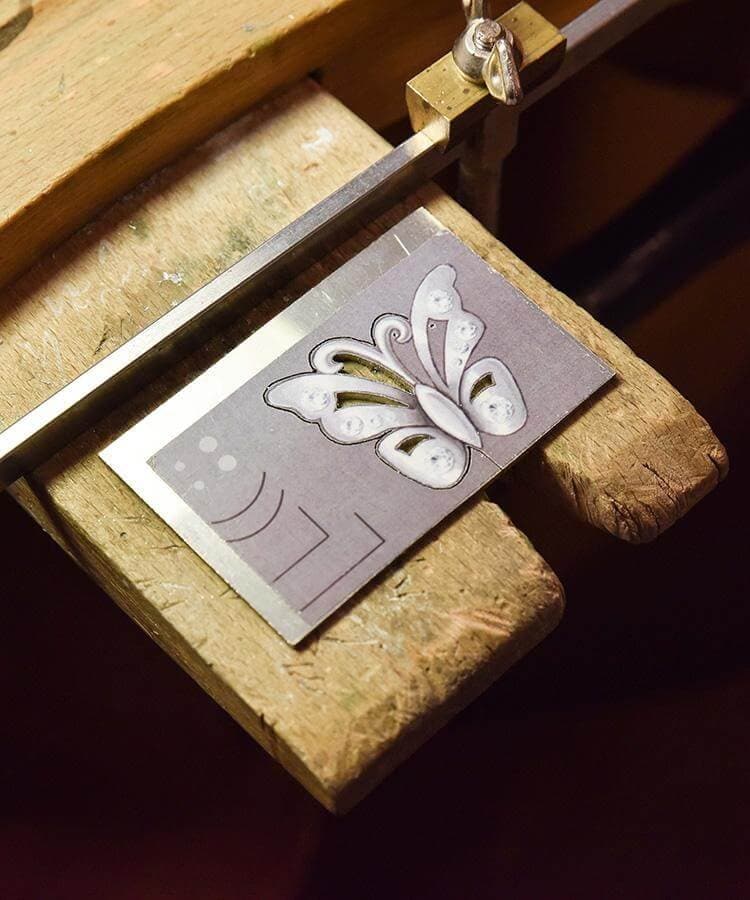 Once the design is finished, the process of creating a jewel begins with a "gouaché" painted design, depicting its color, shape, and volume in actual size.
During this course
Using various sources of inspiration, understand the three stages which allow a jewel to be represented in two dimensions: the drawing, the tracing, and the gouaché.
Experience the mock-up maker's gestures while creating a pewter mock-up, the first three-dimensional interpretation of the jewel. Cut a butterfly out of metal, shape it and decorate it with rhinestones. 
Teachers 
This class led by a jeweler, a designer, and a mock-up maker.
To go further
- Take part in the course "From the wax project to the setting techniques", to discover the next steps in the process of creating fine jewelry.
- After each class, teachers deliver a list of books, podcasts, websites, museums related to the course attended
Good to know 
- You are welcomed by your teachers before the class starts: a chance to meet each other and share experiences
- Coffee, tea, and pastries are offered upon your arrival
- You don't need to bring any specific material
- A certificate is given at the end of the class 
- Take home the "gouaché" sketch and pewter mock-up you have made!
What makes L'ÉCOLE experience so special
- High-quality education: L'ÉCOLE as education and research center has a scientific council 
- A very unique faculty: all the teachers are passionate experts chosen for their enthusiasm and skill in transmitting their knowledge
- Generosity: skills are presented with ease in an enjoyable way, hands-on experience and dialogue. Classes are for everyone with no pre-requisites
- Exclusive interaction: courses are delivered in small groups to allow students to discuss one-on-one with the experts 
- Initiation courses: on an "à la carte" basis courses offered to all those who want to learn and become enlightened amateurs