Art History of Jewelry
The Power of Jewelry: Amulets, Talismans and Lucky Charms (4h)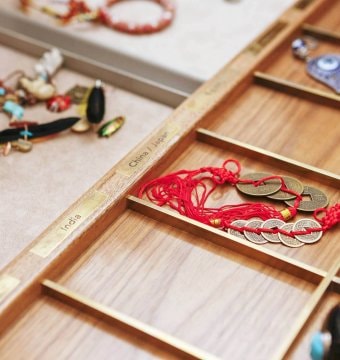 Discover the wealth of legends associated with talisman jewels.
You will discover the powers which stones have been believed to harbor and their meanings, as well as superstitions attached to animals and planets.
The history and geography will take you on a voyage through centuries and civilizations; you will learn how designs and collections made by famous jewelers have derived inspiration from this mysterious parallel universe of the imagination.
This course will make you discover the evolution of the jewel from different angles: history, culture, style, symbolism...  
About the Course
An amulet is a lucky object, known for its protective meaning. While every culture has its positive motifs, Luck itself also has universal attributes. From the Great Mughals to Napoleon, from Catherine de Medici to Elizabeth Taylor, all were fascinated by the legends and beliefs associate with talisman jewels.
Sit back and relax
This course is led by two art historians.
You are welcomed by your teachers before the class starts: a chance to meet each other and share experiences.
You don't need to bring any specific material.
A certificate is given at the end of the class.
Participate in the course "Entering the Van Cleef & Arpels Universe", to discover the sources of inspiration for Van Cleef & Arpels.
After each class, teachers deliver a list of books, podcasts, websites, museums related to the course attended.
Special Offer: Discovery Series
High-quality education
L'ÉCOLE as education and research center has a scientific council.
 
A very unique faculty
All the teachers are passionate experts chosen for their enthusiasm and skill in transmitting their knowledge.
Generosity
Skills are presented with ease in an enjoyable way, hands-on experience and dialogue. Classes are for everyone with no pre-requisites.
 
Exclusive interaction
Courses are delivered in small groups to allow students to discuss one-on-one with the experts.
 
Initiation courses
On an "à la carte" basis courses offered to all those who want to learn and become enlightened amateurs.